TecKompASS - Integrated technology and competence oriented work planning in socio-technical systems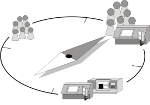 The content of the research project is the development of a new type of work planning methodology with the aim of integrating employee competence as a qualitative feature in the work planning process.
Systematic competence development enables companies to react flexibly to market changes. Particular importance is attached to the qualification of employees in line with their requirements. In particular, technologically complex manufacturing processes make the lack of qualified personnel in line with requirements a hindrance to economic growth. As a result, it becomes clear that the human factor must move more strongly into the focus of planning activities than before.
The work planning methodology to be developed is based on the consideration of technology- and competence-oriented planning parameters and makes it possible to achieve company goals better, as well as the consideration of existing employee competences and their further development in line with requirements.
This means that the potential arising from the use of modern manufacturing technologies and the simultaneous integration of appropriately qualified employees can be taken into account in the planning process and used in the subsequent operational production process to a greater extent than has previously been possible.
The research project is a cooperation of the Institute for Factory Facilities and Logistics (IFA) - Group for Industrial Engineering with the Institute for Manufacturing Technology and Machine Tools (IFW) of Leibniz Universität Hannover.
Funding reference: NY 4/23-2